Transat Saint Barths
Vendee Globe Qualifier
The start line of the Transat Saint Barths, the first solo race for the IMOCA class this year, is indicative of the struggle for all teams to get to this point. Regardless of budget or skills, all of the IMOCA class had a tough journey to join this race, and some had not made it.
The carnage within the IMOCA class during the Transat Jacques Vabre Race left some boats unable to race, but Canadian Ocean Racing had made a strategic decision to retire from the TJV in order to ensure the team's participation in the Transat St Barths Race just a month later.  This decision has allowed Skipper Eric Holden to spend time training for his first solo race and hopefully qualify for his ultimate goal — The Vendee Globe — upon completion of the Transat Saint Barths.
This is Holden's first solo offshore race, and his IMOCA sailing career rides on his performance in this race.  Below are personal accounts from Skipper Eric Holden during the race. Be sure to check back for frequent updates:
---
December 14th
Very sorry to hear about the medical distress and evacuation on board SMA. My thoughts are with Paul tonight. Thank goodness it happened so near land. Only yesterday I was discussing how I would not like to be in that position so close to the storm's centre, the forecast was looking very rough.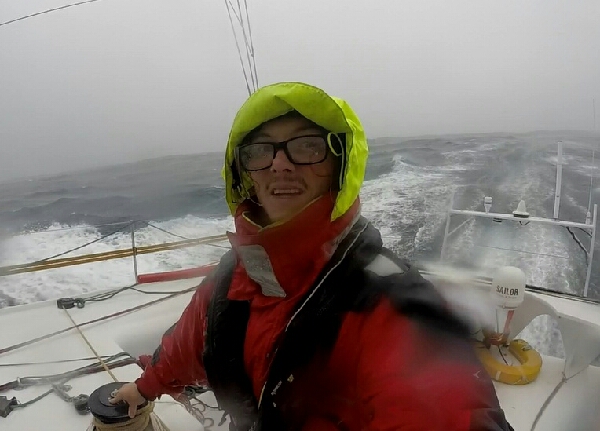 Following the TJV race, there has been significant damage across the fleet in this race again too, and puts some of my sail and pilot issues into perspective. This is not at all good for the class in the year before the Vendee Globe. There is still 1500 miles for me to cover to the finish and the goal remains as at the outset to get there in as few pieces as possible. With the damage to the other boats I am a bit jumpy at any noise on board. I do have a banging noise that I can't account for around the general keel area that is causing me concern. On visual inspection I cannot see anything wrong but am still observing closely. Hearing the reports from other boat on how they have a technical team on shore to support them makes me realise how vulnerable I am with no one to turn to for advice if things go wrong.
I am still learning about the boat and sail plans and how hard to push the boat. The other teams have put up some very high speeds that I have been unable to match. I am not sure if that is due to the boat itself or my comfort level in pushing her. As I can't imagine had steering the final 1500 miles I want to do what I can to not overload the pilot and have it fail. Also without a J1 or J2 headsail I can chose between the J3 or the A5, and will likely opt more for the J3, potentially slowing my progress.
There is still quite a bit of weather ahead for us with potential for 50kts on Wednesday. All going well I hope to be in on the 20th.
Hi Eric,
---
December 13th
As much as I wanted to sleep, I dragged myself on deck before dawn this morning as the wind had shifted so much that I was heading SE, making a gybe inevitable. It was blowing 40kts and as I hadn't gybe in that much before I wasn't looking forward to it, especially in the dark. I was debating about tacking around or gybing, and I decided I should give a tack around a try as I may have to later in even more wind. I came up to above 90 wind angle so that the tack function of the autopilot would work. I selected yes to tack, and the pilot promptly took the boat into a gybe. The gybe function is only supposed to work if below 120 wind angle so there is no explaining how that could have happened. Another thing to add to the list of pilot complaints.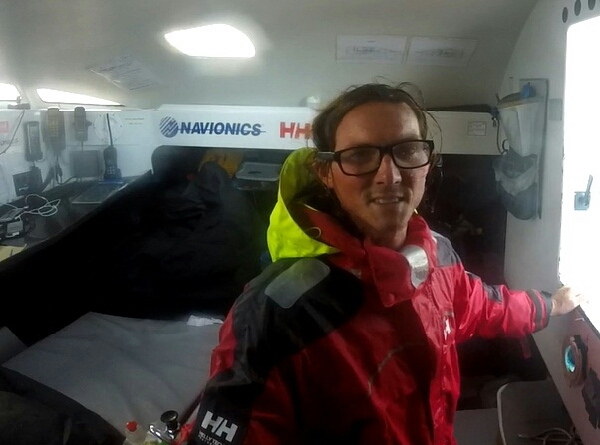 Since heading north it has been very squally in the unsettle cold sector of the low. The wind has been all over the place and it has made it difficult to get the right sail combination. I have finally got the J1 out as without the J2 the J3 was hopelessly underpowered. It's a pretty old sail and one flog may be the end to it, but may as we'll give it a go as it'll never be up for another race anyhow.
The most hair raising experience since my crash gybe was that this morning I passed within a couple hundred metres of a unidentified vessel that was not on AIS and could not be made out on radar in this large sea state. I did hear a monosyllable on the VHF which prompted me that someone was within vhf range. I then had a garbled VHF message that I could not comprehend then nothing more. I was on the lookout and only saw it once it was close abeam. The only reassuring thing was that he must have saw either my AIS or my enhanced radar target. I wouldn't have expected a work boat this far offshore to not have AIS, or to be that small.
Only damage overnight was to a jammer handle that snapped off when it got caught by a reef tack line, discovered in the morning.
Fair winds,
Eric
---
December 12th
Today has been challenging getting the sail plan right. The wind has been between 28 and 45kts, so there is always a time when you have too little or too much sail up.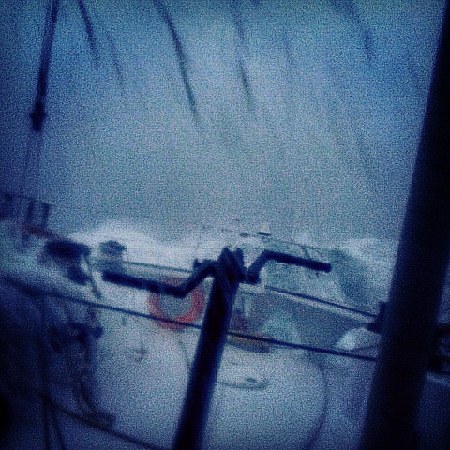 The new pilot has been working ok, but it has made some sounds I am not comfortable about so am not 100% confident in it, and that raises the question on how hard I am comfortable to push the boat. I am still running on compass mode and that does require more supervision, which last night had a negative impact on my sleep. I was feeling pretty lethargic this morning but have since had some naps and am doing better. Lots of reefs in and out which physically is tiring as the sail goes up slowly when push against the spreaders by the wind. It is good fitness training doing exactly the motions I need the muscle for, but also feel a need to spend more time on fitness over the winter. No injuries to speak of, I have bumped my funny bone a few times which I can feel when on the coffee grinders. It's still really warm, I have started putting on a jacket when on deck as it's so wet, and wear a light shirt down below at night. We haven't really started the turn north yet but when we do I expect it will cool off fast. I will keep you posted but so far so good.
Eric
---
December 11th Day 5 Evening
I am beginning to get low on resources here with the NKE out of action now our main autopilot won't engage after causing a crash gybe with full main and A5 (Morgen is familiar that when it looses SOG it can screw up the true wind rather than just revert to compass mode). Obviously my confidence in the system is a bit shaky at the moment and there is a long way to go in some very strong winds. I'm running on the backup motor I installed in St. Barths and it hasn't been tested. Also running on compass mode right now, which is not terrific downwind. Usually I ask Morgen to hold the helm while I try fix things but that's not an option anymore. So far the new pilot is working.  At least she handled the gybe without damage. I have the A5 back out again but have two reefs in the main to hopefully keep things under control. Boy is it dark tonight.
Eric
---
December 11th, Day 5
This morning the breeze finally returned, the A2 came down, and we came up on course under A5 and are now averaging about 15kts in about the same wind. I even have a bit of a race on with another Open 60 Queguiner in sight. They are 'hors course' and doing a doublehanded delivery passage back to Lorient. They were the third placed boat in the recent TJV transat race to Brazil and are still in good form, averaging a knot or two quicker than O Canada so I may not keep them in sight for long.

As I finally get the wind the lead pack has fallen off the system they were following and now have to suffer some of the light airs that I had to suffer through. It would be nice if there would be some contraction in the fleet. It was inevitable given the weather setup that Kilcullen Voyager would catch up. I have been resigned to that for many days now, however I'll do my best to keep ahead.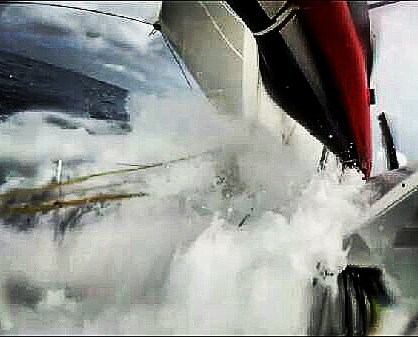 I am glad I invested in repairing our A2 spinnaker in St. Barths as I have used it entirely for the last few days in this light running conditions. The J2 will be mourned as it would have been a very useful sail as the wind builds for the remainder of the race. There is a big gap between the J1 down to the J3, and also a laborious change from the A5 fraction kite to the J1.
The wind should build from here on out and being from behind should see some fast sailing as the sails get smaller and smaller. I expect to be heading east for the next couple of days as I skirt under the low and attempt to avoid the storm force winds to the north.
The boat and I are fairing well, as you would expect given the light condition we've been experiencing. Now it's time to shift my mindset to be ready for a wet, fast, and eventually cold ride.
Eric
---
December 7th, Day 2
Nice and Gentle.
Reaching along under full main, J1, and staysail in about 10kts of wind. Pretty gentle conditions but not complaining as the sun is out and we are heading in the right direction. Waiting for a bit more of a lift then it should be time for the Code 0. I had hoped to repair the J2 while the conditions are light but after taking it down and examining it I think it would be futile. I could repair the 2m long split in the leach and the football size hole near the batten pocket, but the leach is so shot it would just tear elsewhere and I can't replace the entire leech. This will put pressure on the J1 as it will likely be used out of range and it is already a weakened sail, we'll see if it makes it to France. I have my doubts.
Not sure why the NKE instruments are not happy but it was shutting down due to low voltage and now it will power up but it is missing data. As it is the backup system in is not imminently important but I would like to have that redundancy.
Otherwise things are well on board and settling into a routine. Nice conditions to do so.
Think I will get on deck now and start preping the Code 0.
Eric
---
---
Latest Tweets from Eric at sea
Green flash and no one else here to witness it. #sbplf #greenflash #believeme

— Eric Holden (@ericsholden) December 8, 2015
Got myself a little too close to the high resulting in a slow flappy night. On the plus side seem to have resolved alternator issue. #sbplf

— Eric Holden (@ericsholden) December 9, 2015
Frustrating to hoist a newly repaired kite only to find two holes in it. Lack of due diligence on my part. Finally up again. #sbplf

— Eric Holden (@ericsholden) December 9, 2015
Few days from now when going fast and it's cold and wet, wonder if I'll look back a little wistfully on this warm pleasant sail?..nah #sbplf

— Eric Holden (@ericsholden) December 9, 2015
Focus on the experience and the learning and may just remain sain. Not an ideal situation here with very little wind and no exit. #sbplf

— Eric Holden (@ericsholden) December 10, 2015
Curry for breakfast, now that's cheered me up.

— Eric Holden (@ericsholden) December 10, 2015
Not much going on locally but a large swell has moved in from the NW. Baro hasn't dropped yet but can expect some fun in the future. #sbplf

— Eric Holden (@ericsholden) December 10, 2015
So nice to be moving again. 16kts is so much better than 6, even if Queguiner in sight ahead is consistently over a knot faster. #sbplf

— Eric Holden (@ericsholden) December 11, 2015